Stowe is highly regarded as a site for second homes and permanent residences. It is one of the hidden jewels of Vermont, with green mountains, quaint villages, year-round recreation, and rolling farmland.
Besides being characteristically Vermont, Stowe has something else: some of the best skiing in the country. Also called the Ski Capital of the East, Stowe gives Aspen in the Rockies a run for its money. Mount Mansfield and Spruce Peak are famous for their ski slopes and resort.
But you won't move to Stowe for its winter sports only. The town also offers idyllic country life, mild weather, incredible fall foliage, luxurious resorts, world-class mountain biking, arts, culinary delights, and much more.
This unique small town in Vermont hasn't escaped attention altogether. In the past several years, the Stowe housing market has seen a massive increase in demand. Homes are now selling for upwards of a million dollars, and inventory is sparse.
At Coldwell Banker Carlson Real Estate, we're expert real estate agents in Stowe, Vt., and the whole of Lamoille County. If you're planning on buying a home here in Stowe, this guide is for you.
WHY MOVE TO STOWE?

Everyone loves Vermont for its distinctly quiet, quaint vibe. Stowe is one of the best towns to offer this kind of living as you seek to escape the crowded, hot, busy city life. It is the perfect place to rediscover the joy of simple, unhurried, yet truly luxurious living.
Perfect weather and postcard scenery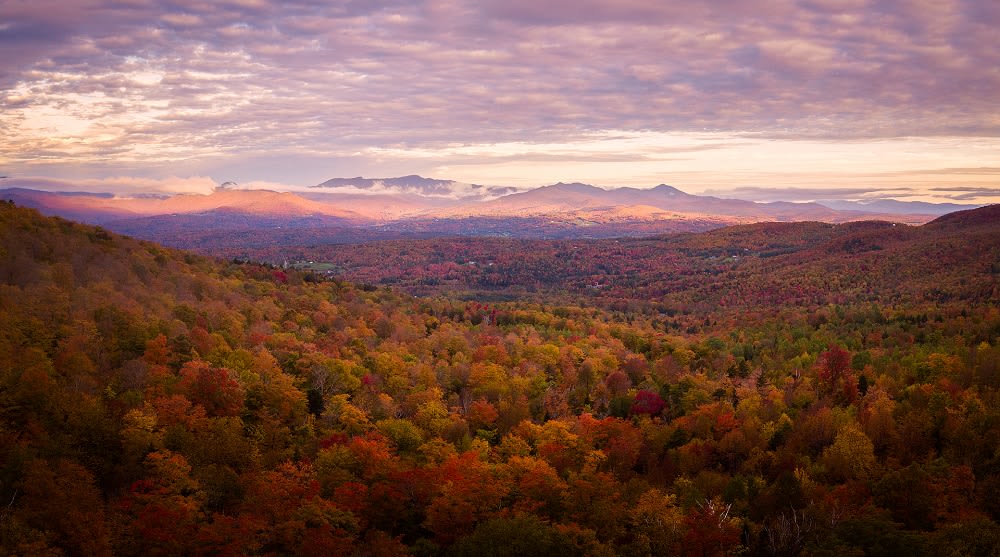 Photo courtesy of Coldwell Banker Carlson Real Estate
The mountain landscape of Mount Mansfield, with its picturesque views, crisp air, and wide-open vistas, are breathtaking.
Summer in Stowe is the unsung time of the year. It's mild and comfortable, with wet weather and temperatures averaging about 75 degrees. Winter can get chilly, and steady snowfall packs up to 30 feet in places.
Fall in Stowe is a wonder to behold. From early September to mid-October, we get Stowe's legendary fall foliage with brilliant yellows, greens, reds, and oranges. The town is a favorite destination for "leafers" worldwide.
We'll clue you in on a secret: to enjoy the fall foliage with some privacy and intimacy, rent a canoe or kayak at the Waterbury Reservoir. Or
have a picnic
in the park; it's so beautiful that it feels sacred.
You can also take a short drive up Smugglers' Notch, a steep winding pass on the mountain from where you can watch the slopes ablaze with color. There are even more exotic views along Stowe Mountain Resort's toll road to the top of Mount Mansfield. There, expansive views of Lake Champlain, the Adirondacks, the White Mountains, and the Green Mountains will take your breath away.
Luxurious living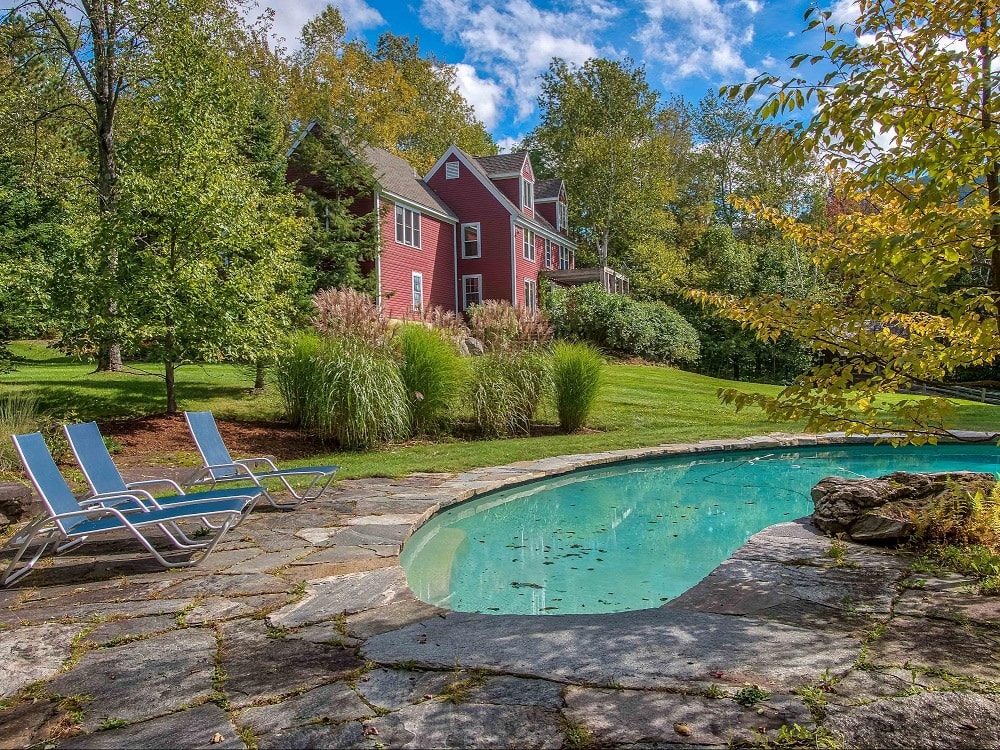 Photo courtesy of Coldwell Banker Carlson Real Estate
Stowe redefines luxury. Forget loud casinos, pretentious parties, and decadent shopping. Instead, we have the Stowe Rec Path winding up the Mountain Road, award-winning craft breweries such as the Alchemist, farm-to-plate restaurants, hot air balloon rides, and much more.
There are luxury amenities scattered in and around town. For example, the
Trapp Family Lodge
has a fitness center with yoga training, a 20-person outdoor hot tub, a massage center, an outdoor heated pool, carriage and sleigh rides, and many special events all year.
Other world-class spas and wellness centers include the Stoweflake, Topnotch Spa, and The Spa at Spruce Peak.
Culinary delights: farm-fresh food and wine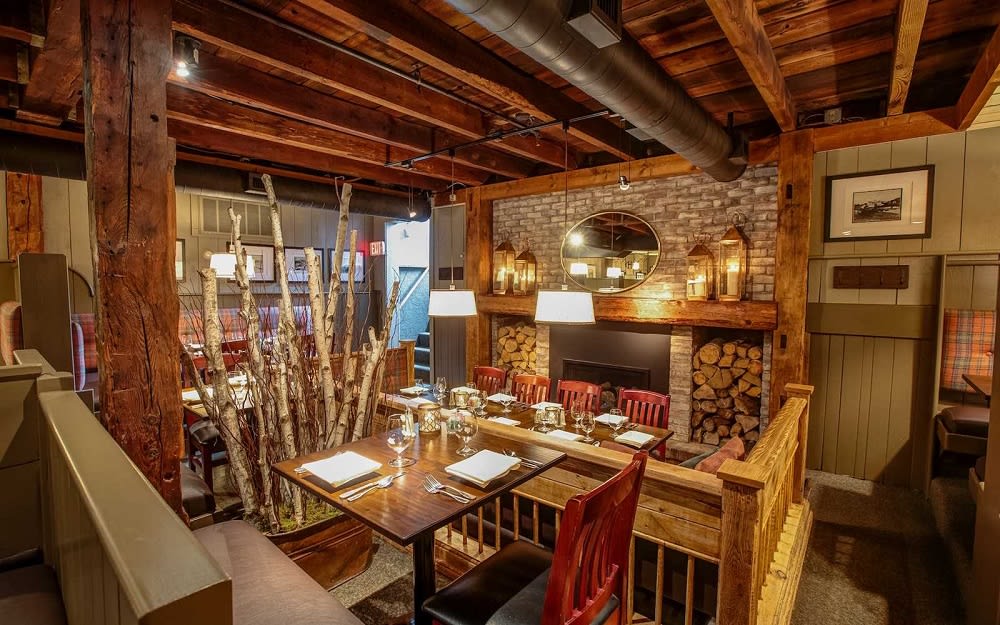 Photo courtesy of Harrison's Restaurant
Talking about luxurious living, Stowe is a foodie's paradise. It has a farmers market where you can sample the freshest farm produce, craft breweries, beer cellars, and wineries aplenty.
If you love eating out, Stowe is a dream come true. The town is home to excellent
restaurants
:
For drinks, Stowe is a paradise for beer and wine lovers. Driving between Waterbury and Stowe, on Route 100, you find the
Cold Hollow Cider Mill
. It is a fantastic spot for apple lovers, and they also make exceptional cider and cider donuts. You can even sample hard cider on location.
Along the same road, you will also find the Ben & Jerry's Ice Cream Factory, producers of the Vermont staple. There is also
Cabot Farmer's Store
with its phenomenal cheddar, wine, beer, jellies, jams, crackers, and syrup.
Sports and leisure
Stowe Memorial Park
is the center of many recreational activities in the town. It houses basketball and tennis courts, baseball and softball fields, and little league fields. The park also has the Stowe Arena for ice hockey and skating events, an indoor turf with heated bleachers, a glass viewing lobby, and conference rooms.
Accessibility: driveable, walkable, and bikable
We already covered scenic driving in Stowe, but the town is also a prime hiking and biking spot.
The Quiet Path
comes to mind, with its 1.8-mile mown grass pathways and panoramic views. Spoiler alert: the Quiet Path is foot traffic only, and you can do it barefoot!
There's also the beloved Stowe Recreation Path or the Rec Path. The 5.3-mile scenic path is beautifully maintained and has countless delights. With 16 picturesque bridges, picnic spots along the water's edge, fields, cows, and gardens, it is a charming place to take a walk or ride.
Suburban feel and close community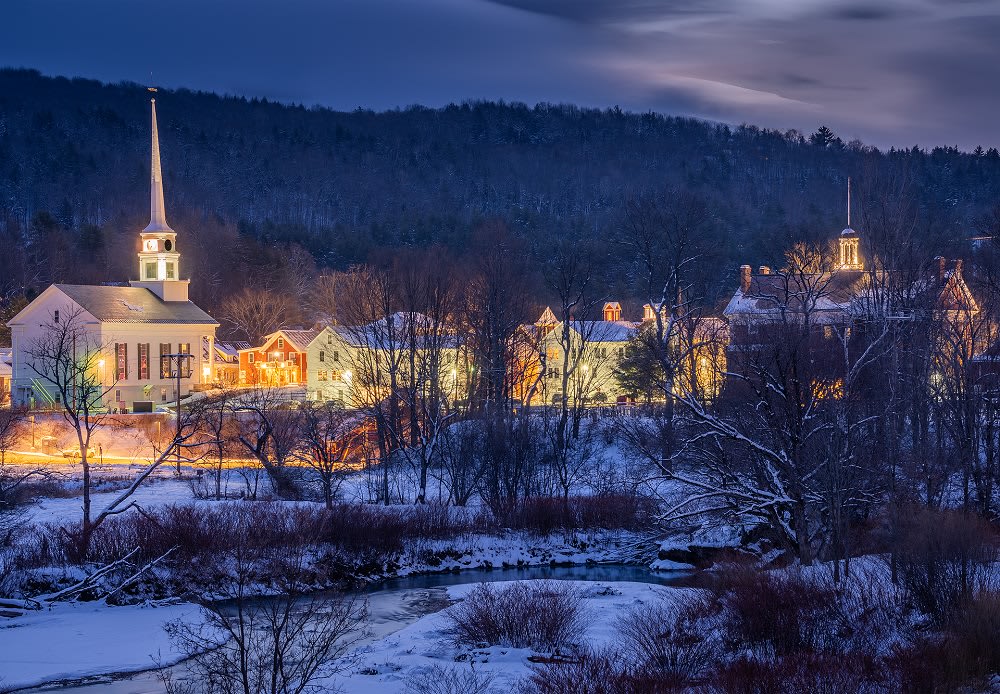 Photo courtesy of Coldwell Banker Carlson Real Estate
If you visit the
Sage Farm
on Upper West Hill Road, you will find a family-run goat farm. A weathered barn sits next to a wildflower field, housing an unattended store with refrigerated small-batch goat cheeses and fresh eggs. An honesty box and price list are all you need to help yourself.
Sage Farm is just one example of the laidback yet close-knit community life you can expect in Stowe. With about 4,500 living in the town, it has a small-town sense of community. The Stowe Community Church is the centerpiece of downtown Stowe, and you are never far from kindly neighbors.
With more people choosing to live permanently in the town, the city has become a lively mix of retired couples, young families, and wealthy working folks getting away from the bustle of city life.
Schools
If you're moving with kids to Stowe, the town and surrounding regions offer excellent middle school, college, and technical education opportunities.
The housing market in Stowe, Vermont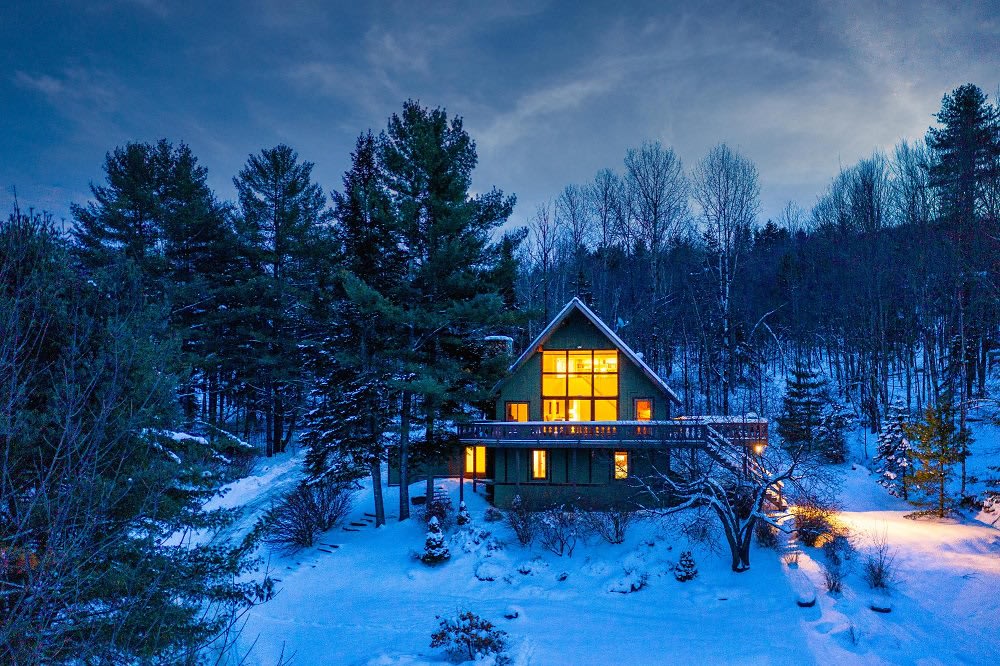 Photo courtesy of Coldwell Banker Carlson Real Estate
In Q3 2021, single-family home sales fell
34.6%
as median house prices rose 17%. This shift reflected a boom in housing demand in Stowe and surrounding towns as out-of-state buyers flooded the area.
Coming from densely populated areas in states like California and Texas, these wealthy newcomers were looking for a piece of Vermont mountain life. They were willing to pay big bucks — cash deals — for homes in the town.
Homes went from a median of $525,000 in 2019 to
$1,350,000 in 2022
. That's because, despite growing demand, inventory has become sparse. Few people are willing to sell and move out of town, and high land prices, available labor, and cost of materials have slowed down new construction.
The popularity of Stowe is also affecting surrounding areas. Buyers are setting their sights further afield to Morristown, Hyde Park, Wolcott, and Elmore, where home prices are already up 30–40%. As a place to live and invest in real estate, Stowe is the ideal town. Demand is likely to keep rising as more and more people seek to leave the smothering atmosphere of big towns. Hybrid and remote working policies make towns like Stowe more attractive to wealthy buyers.
Let the Coldwell Banker Carlson Team work for you

Finding the right home in Stowe is tough — and we can help. At Coldwell Banker Carlson Real Estate, our bright team of local agents is knowledgeable and passionate about real estate in Stowe and surrounding areas.

Thanks to our expert local knowledge, we have one of the largest selections of Stowe homes for sale and Lamoille County. We're here to provide guidance and help you navigate the process of buying or selling real estate in Stowe and all of northern Vermont.